Training: Directory Extension
NOTE: The training videos haven't been created yet for the new Version 4. The main difference is that Website Pages is now called Site Content.
Contents
Directory is a Photo Directory for your Church, School, Conference or Ministry. It makes the process of keeping track of members addresses, phone numbers, emails, etc. much easier by allowing the right members to update their own records as needed. The directory can be made public, or kept private for your members only. With version 2 you can now define your own custom fields. You can use the web-based searchable view or print out your own color photo-book.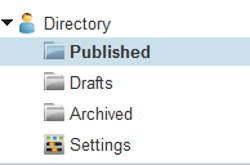 If you haven't activated the Directory Extension, you'll want to do that first in your Dashboard under the Settings tab. After you've activated the Directory you will find it on the left side menu under the Website Pages tab. Click on Directory then Published to get to the Directory Screen.
Creating a Directory Entry is easy. You will need to click on the Add New Entry button on the Directory screen. This will take you to an entry screen where you can add the information for that Directory Entry . Note: a Directory Entry usually represents a household or family so you don't need to make an entry for every member. When all the required fields are filled out on the Directory Entry Details tab you can go on to the next tab, Attached Users and Owners (see The Role of Users and Owners). Be sure to click on Save.
Attached Users are members of your site that this entry represents. You can select/unselect multiple Users (th e Smith family members) with Ctrl-click (on a PC) or Command-click (on a Mac).
Attached Owners are users that can Edit this entry when viewing on the site. Note: An Owner does is not required to have Dashboard access to do this since this is done from the front-end of the site. If there is no Owner attached to an Entry, the editing must be done from the Dashboard.
Uploading the Directory in CSV Format
If you have all of your membership in another system (eAdventist, Excel, Access, or some other database) you can import your entries to save you time. We do this by using CSV, or Comma Separated Value formatted files that most other programs will export. You can download a CSV of some of your own database to see the format. Once you have your CSV you can upload them to your site by clicking on the Upload CSV/ZIP button. netAdventist recommends you backup your data first by clicking on the Download Backup DATA CSV and Download Backup Photo ZIP buttons before uploading a new CSV or ZIP file. Note: Do Not Modify Unique IDs in your CSV file. Merging functionality requires them to remain unchanged. New entries should have a blank ID. The External Reference ID is for you to supply your own unique ID if you are syncing with some external tool, and will be primarily used instead if supplied.
When you are ready to upload your CSV file, click on the Browse button and search for the file you wish to upload. Once you've located and selected the file, click on Open. If you are merging CSV data with the existing Directory data click on the radio button that applies to your case following the instructions mentioned previously. Click on Upload when finished.
When uploading the Photo ZIP file, filenames of files inside the ZIP archive should match the "Photo Filename" fields in the CSV data you are also uploading. If you don't supply a CSV file, they should match filenames already in the system. Click on Browse and locate and select the file you wish to upload. Click Open. Click on Upload when finished.
Downloading the Directory in PDF
A powerful feature Directory v2 brings to netAdventist is the ability to not only have the Directory on your website but also to be able to create a color printable PDF. You can configure the Photo or graphic for the front page, add your own custom text for the front and back pages, and define what format you want to organize the pages in. Visit the Directory then your Settings to change these.
Downloading the Directory in CSV format
As your members update their records you may want to export them from your website and use them in your church database. You can export this by clicking on Download CSV. A light box should appear and prompt you that your download is about to begin, click on OK. A second box should appear. Select the options you wish and click on OK when finished.
netAdventist now detects if you're viewing the site with an iDevice (iPhone, iPod Touch, iPad) which doesn't display flash. netAdventist then sends the correct media to these devices so that they can view MP4 or H.264 media properly. Be sure that your videos are encoded as MP4 (H.264) for this to work properly.
Training Video for the Directory Extension